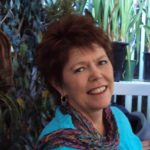 Like so many people, I was really unhappy and had given up. It seemed as though my life fell apart and would never be any different. And then, I found Agape Center International Center ….it was what I needed. I learned that I am very powerful because the Presence of God is within me. I learned very powerful Spiritual practices……the importance of thoughts and beliefs…….the importance of keeping my vibration high……….and Spiritual Mind Treatments.  I took all the classes I could and used the knowledge I gained to create a life that I love.
      I continued my studies of body-mind-spirit with classes at Muehler School of Holistic studies and did massage for many years. Realizing that our minds and emotions are so important I continued my studies at the Hypnosis Motivational Institute, the American Board of Hypnotherapy the National Guild of Hypnotists, and Advanced Neuro Dynamics. I studied Tapping with Gary Craig and at the Miracle Center of California. The Miracle Center focuses their studies on the Course of Miracles, Hypnosis, and Tapping. I was really drawn to this because of the spiritual emphasis.
     Knowing that this is a vibrational Universe and that everything is energy I became a Reiki Master and studied the teachings of Abraham Hicks.
      I continue to study and practice intuitive development because I believe that our intuition is our guiding light.
      This all led me to become a Certified Coach with the Quantum Success Academy as well as a certification as a professional coach at Fowler Wainwright International, Institute of Professional Coaching.
      I will teach you and help you to change your vibrations through your thoughts, feelings, beliefs and actions to deliberately attract the things, opportunities and people that will help you to live the life that you love
     Using powerful Spiritual Principles, energy processes, hypnosis, tapping, NLP, guided visualizations, Spiritual Mind Treatments, as well as my intuitive abilities to help you to remove blocks to allow the flow of what you do want into your life's experience. Then, I support and help you to take inspired actions to achieve your goals.
If you have any questions, or want to schedule a sample session, please contact me at Dr.April@nullaprillouis.com
  .